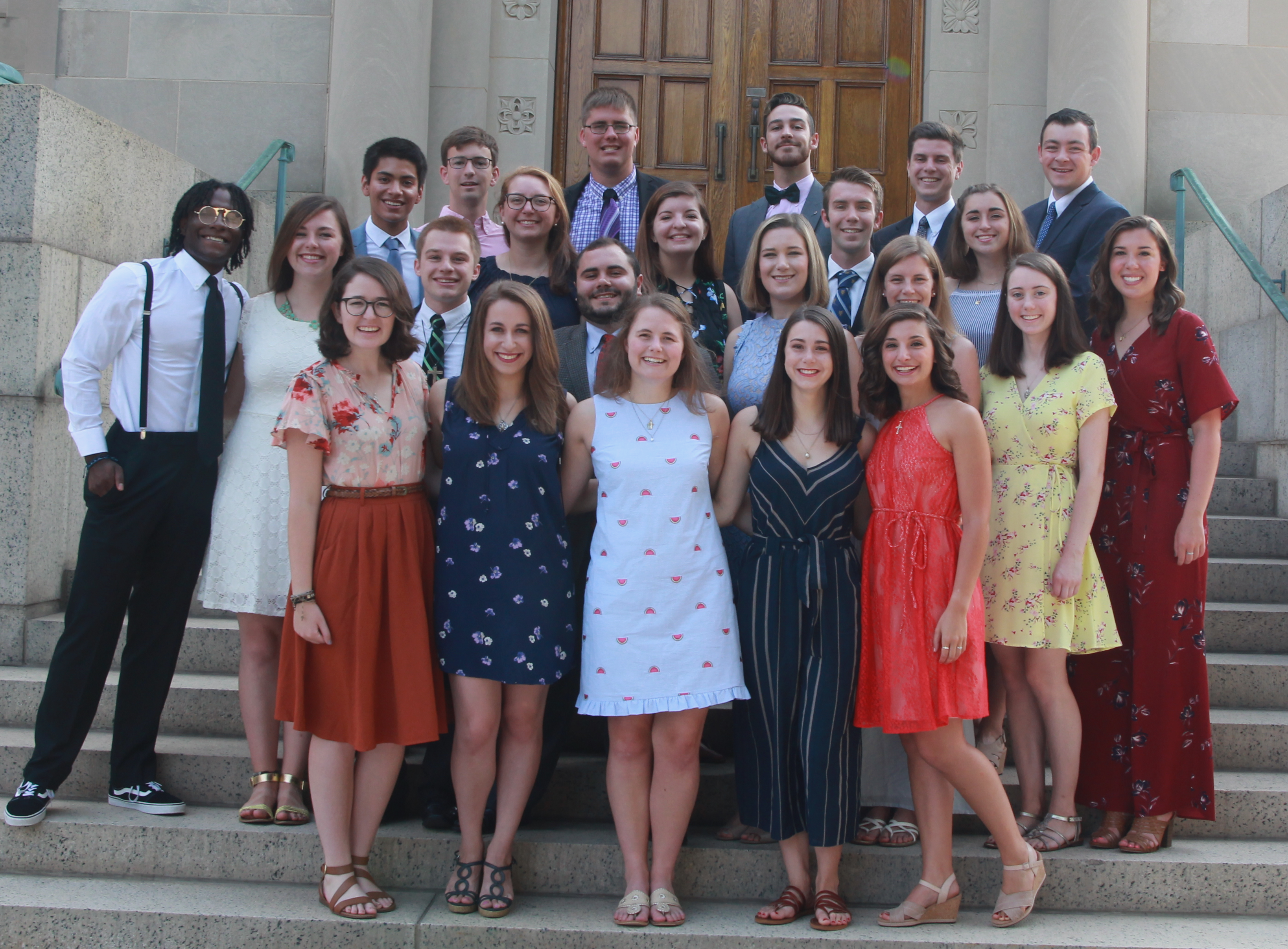 What Do I Need To Know About Student Ministry?
Frequently Asked Questions
Who should apply?

Anyone who is energetic and enthusiastic about living their vocation as a young Catholic adult and interested in doing a year of service to their community by sharing their faith and becoming a part of a faith community.

What are the benefits of Student Ministry?

Student Ministry offers the opportunity for: personal and communal spiritual growth, professional development (financial, programming, communication skills, etc.), leadership development, faith formation, and one-on-one mentoring.  Student Ministry is a leadership position that allows you to walk with the Catholic University community in their journey of faith and their experiences at Catholic U.  Student Ministers also receive a scholarship that provides full room and board.

What if I don't think I'm the "typical" student ministry person? Should I apply?

There is no "typical" person and diversity in personalities and interests is both encouraged and sought after. You don't have to be the holiest, but you must have a desire to grow in your faith and a willingness to share your faith with others. The skills needed are diverse, but all applicants should have good social skills, be able to think creatively, enjoy meeting new people, and create programs for the campus community. 

Will I be able to be involved in sports and/or other activities? Will I have to stop doing them?

There is room for both sports and other activities, but it is important to remember that for student ministry requires a serious time commitment.  Student Athletes from a variety of teams have been successful student ministers.  Don't hesitate to contact campus ministry to speak about the ability to balance both.

I have a tough major, can I still do ministry?

All majors are encouraged to apply and it is up to the Student Minister to balance his/her workload with his/her ministry responsibilities.  Student Ministers in the past have had majors ranging from Theology, Bio/Pre-Med, Nursing, Architecture, Engineering, Musical Theatre, and Education.

When are Student Ministers required to return to school for the upcoming year?

Upon being selected, all new Student Ministers will be required to return to campus during the second week of August for a mandatory two weeks of training. This training is crucial for professional development, community building, faith formation, and other essential information that will aid Student Ministers in their ministry.

What is the basic rundown of hours per week spent in ministry?

Student Minister responsibilities include a weekly meeting with your community, a weekly meeting with your supervisor (a member of the pastoral staff), a weekly meeting with the pastoral staff, community prayer time, community meal, community Mass, leading a weekly Renew group (House Ministers) or a monthly Beyond the Pews (Resident Ministers), roughly 3-5 hours of ministry of presence with your residents, being present at Tuesday night House Mass and Wednesday night Adoration, your community job (shopping, advertising, scheduling, treasurer, manager etc.), programming events - depending on which community: Friday Night, Cellar Night, CUA on Tap, etc.

Thiss adds up to approximately 20 hours per week is spent in ministry.

The time seems like a lot. How do people handle it?

The student minister should be grounded in prayer, both personal and communal. The faith community will also be a great resource to the student minister. You will also have supervision (each student minister is paired with a pastoral staff member to meet once a week), which helps you strike a balance in friends, personal time, ministry, and schoolwork.  Personal prayer and conversation with family and friends are crucial to this decision process of whether or not to apply.

How can I prepare for the application process?

Student Ministry is a year of service and a significant sacrifice. We encourage you to pray as you discern whether God is calling you to this year of service. We will be praying for you! Please see the Personal Discernment link on the website for more information.  
Prayer for Discernment
My Lord God, I have no ide where I am going.
I do not see the road ahead of me.
Nor do I really know myself.
And the fact that I think I am following your will
Does not mean that I am actually doing so.
But I believe that the desire to please you
Does in fact please you.
And I hope that I will never do anything apart from that desire.
And I know that if I do this,
You will lead me by the right road
Though I may know nothing about it.
Therefore I will trust you always
Though I may seem to be lost and in the shadow of death
I will not fear you are ever with me.
And you will never leave me to face my struggles alone.
--Thomas Merton